Toyota comes out on top at CBB Awards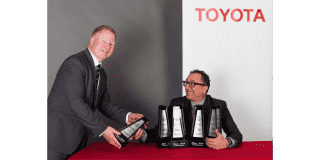 It's no secret that Toyota manufactures some pretty incredible cars. Whether it was introducing the consumer to the Luxury SUV with the Lexus RX in the 1990s, or pioneering and building the Prius in preparation for the demand for the green car, Toyota has always been a forward-thinking organization that takes a lot of pride in its vehicles.
We are happy to announce that the Japanese automaker accomplished a great feat in receiving Nine Canadian Black Book Retained Value Awards - more than any other auto manufacturer for the eighth straight year as well as Six ALG Residual Value Awards - more than any other auto manufacturer for third straight year.
Of the nine awards received from CBB, one of them was for a newly created category, Top Overall Brand in the truck and SUV category. One of the key take aways here is that since 2010, Toyota has received 49 awards from CBB, whereas their next closest competitor has achieved 12 in the same time frame.
A portion of the scoring was determined by selecting 2013 model year cars and trucks, analysing them to determine which ones retained the highest percentage of their original MSRP over four years.
If you're ready to take a step towards one of the biggest investments in your life, then be sure to visit Don Valley North Toyota located at the corner of Victoria Park Avenue and Steeles Avenue East in Markham and we'll be happy help you through all steps of your buying journey.
tags ( Toyota, Awards, Canadian Black Book )